Lots of writing behind the cut.
"Miss Rigor Mortis", you say? You must have a great deal of time on your hands if you've honestly decided that hunting down attractive female zombies and taking pictures of them is a worthwhile pursuit, my friend. Should I be flattered that you wish to include me?
No matter. My days have been growing increasingly boring lately, so I will humour you. Go on, take a picture. I won't bite...
For now, at least.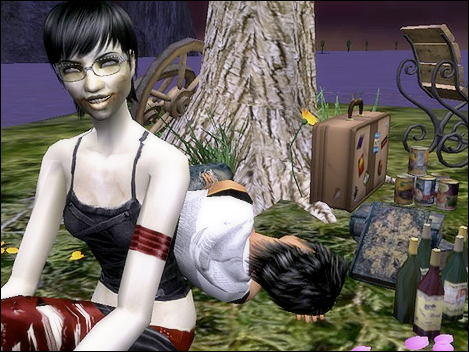 A special talent? Why yes, I'm well-versed in various arts and fields. Evisceration, massacre, cooking... and lucky you, you've caught me in just the situation where I can show them off. What do you say to a quick demonstration, love?
No? Pity.
--------------------
Hm? You want a picture of me in a bathing suit? My, you're one daring little kitten. Follow me...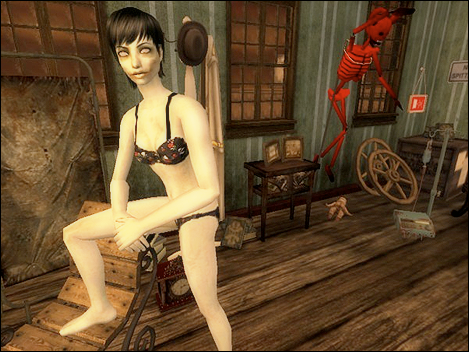 This is where I keep any interesting trinkets that I find. Do you think it strange that I collect things? The days here are boring. I had to find something with which I could amuse myself.
In any case, it seems that I was able to salvage a bikini or two... what do you think? Shows off my delightful, rotting skin, doesn't it? Heh heh heh...
--------------------
A formal dress? Yes, I do believe I possess one... but you'll need to step outside while I change, kitten. Propriety before all else, you understand.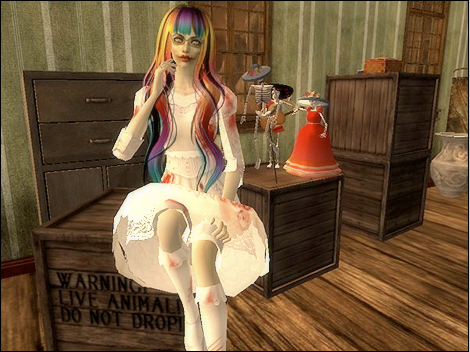 Ah, there you are! I am sorry I took such a long time, I was in the middle of changing when I found myself... distracted by an unprecedented event.
Do you like my hair? I found some extensions lying around, I thought you might enjoy them.
--------------------
"If I could change one thing in the world, what would I change?"... that's an easy question, love. Have you seen the state of my clothing? Rips, tears and stains everywhere. I would implement functioning dry-cleaning and sewing establishments every few blocks, that I may have some decent outfits to wear every now and then.
What? Were you expecting something like "World Peace"? "More plants"? "No disease"? I'm a zombie, darling. My priorities are different from yours. Besides...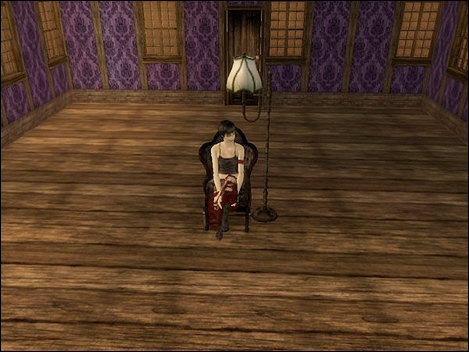 I doubt that there is anything left that could possibly save this God-forsaken place.
~*~*~*~*~*~*~*~*~*~*~*~*~*~*~
A/N: ELOQUENT ZOMBIE WHAT :O I honestly have no idea what happened. I was all for making this humorous, and somehow it winded up turning into some post-apocalyptic serious thing. I blame this on the Sweeney Todd soundtrack, to which I was listening while I made the set.
If you take a closer look at the junk Dominique has stashed away, you can find the broken wheels and chair that the sleeping guy in the first picture had with him. Now you know how she gets her trinkets...
And if you're wondering what the "unprecedented event" was in the third picture, look at the crate she's sitting on... then at her clothes.